Letterpress : printing with emotion
As soon as you pass your finger over a model from L'Atelier Letterpress, the emotion is there, palpable. Letterpress printing has left a slight hollowness in the raw and generous texture of our exceptional papers, giving full meaning to our vintage-inspired design.

Take the time... It's Slow Print
Printing a model from L'Atelier Letterpress takes one to three days, a lot of patience, and requires all the know-how of our master printer, Denis.

He begins by mixing the inks by hand then inks the rolls, and when it is well distributed he positions the relief plate of the first color on Heidi, our magnificent Heidelberg press from the 1950s. Heidi comes to life, begins to breathe (thanks to his pneumatic sheet-taking system) and Denis begins the meticulous work of setting up the printing of the first color, until obtaining the desired inking, precision and depth.
Once the first color is finished, he meticulously cleans the press to remove all traces of this first color, and repeats the same process to print the other color(s), taking care of their balance while letting them live.
Deep and bright colors
Letterpress colors are full and pure as we have the full range of beautiful Pantone colors available to us including neon and metallic colors, unlike conventional printing, which uses four screened base colors to achieve the others by an optical effect, which make them mechanically duller.
We can also replace ink with the refinement of hot foil for metallic and even holographic renderings, always with that delicious hollowness.
Enjoy your L'Atelier Letterpress posters and cards for a long time

You will be able to appreciate your L'Atelier Letterpress copies for a long time because they stand the test of time very well and will not lose any of their beautiful colors.

The light will play with the hollowness of the print and you will discover them slightly different throughout the day and the seasons.
What are you going to choose?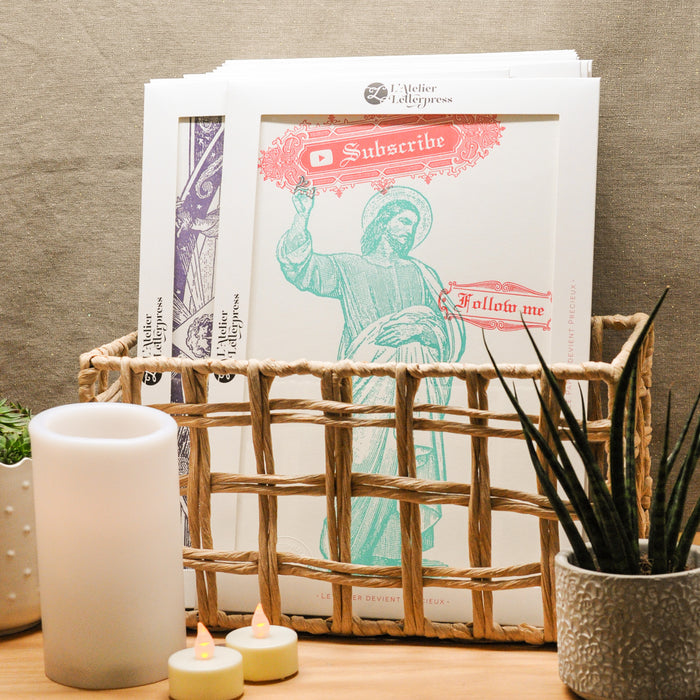 82 items
Precious hand printed art prints to decorate your walls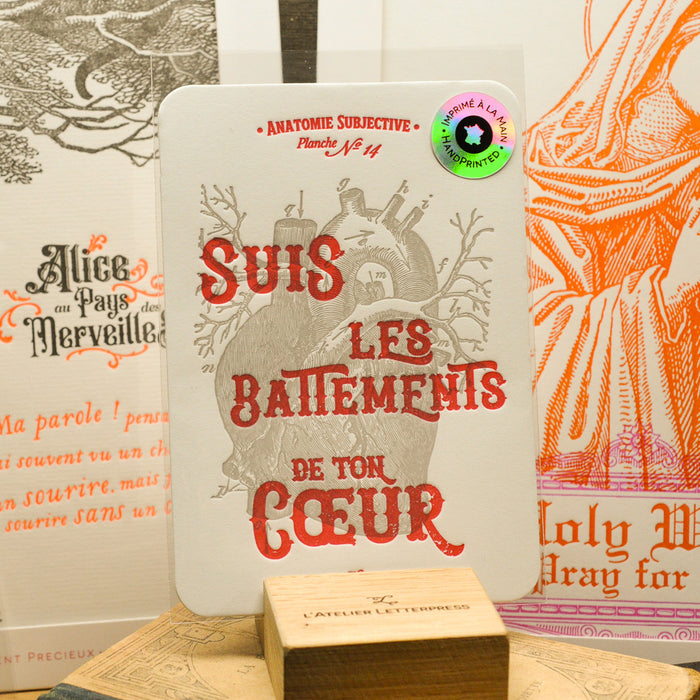 154 items
Precious hand printed cards, to gift or to keep !
14 items
Spoil your books with these beautiful hand printed bookmarks!